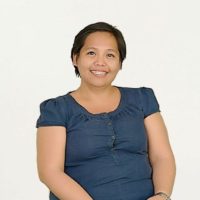 Joy G. Pardo / ジョイ
Academic Manager
She graduated with a degree of Bachelor of Arts in Broadcast Communication. She took Masters Degree in Professional Studies major in Developmental Communication and had units in Bachelor of Law. She completed the University of Cambridge International Examination Online Professional Development Course: Introduction to Cambridge Primary. She completed the Teaching English to Speakers of Other Languages (TESOL) Professional Development Certificate Course- Certified TESOL Teacher. She Received a Special Service Award from the Ministry of Education, Youth and Sports, Cambodia and has been recognize for Social Service by the United Nation Children's Fund (UNICEF), Cambodia. She took the Language Proficiency in International English Language Testing System (IELTS): Academic and General. She is taking up Diploma in Professional Education and Certificate in Professional Teaching. She has been in the ESL industry since 2006.
Hobby(趣味)
Travelling, Reading books
Favorite Motto(好きな言葉)
Do the best you can until you know better. Then, when you know better, do better.
Message(メッセージ)
Get over the idea that only children should spend their time studying. Be a student as long as you still have something to learn, and this will mean all your life…Come and study at TAKA HARI ENGLISH ACADEMY. We will give you the best service and support you need while learning the English language.
Other Members