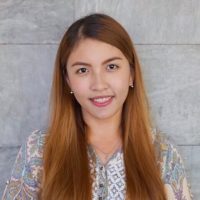 Chacha / チャチャ
Head Teacher
Charmine N. Sarpamones
She graduated with a degree of Bachelor of Science in Nursing. She is a licensed Nurse. She completed the Certificate in Trainer's Methodology 1 (TM1), She is a certified Callan Methodology Teacher and attended the Basic K-12 Program Training. She participated in a school training in Test of English as a Foreign Language (TOEFL); EIKEN Test in Practical English Proficiency; Business English; International English Language Testing System (IELTS); Effective ESL Teaching Strategies and Techniques in Facilitating Learners. She facilitated training on "How to teach Grammar to Second Language Learner". She also received the 3rd Highest Score in Test of English for International Communication (TOEIC) for teachers. She has been in the ESL industry since 2013.
Hobby(趣味)
Cooking, listening to music, watching movies, travelling, video editing
Favorite Motto(好きな言葉)
If you want something you never had, you have to do something you never have done.
Message(メッセージ)
Explore your horizon and meet new people. Study here and learn English right.