1st Anniversary Appreciation Campaign! !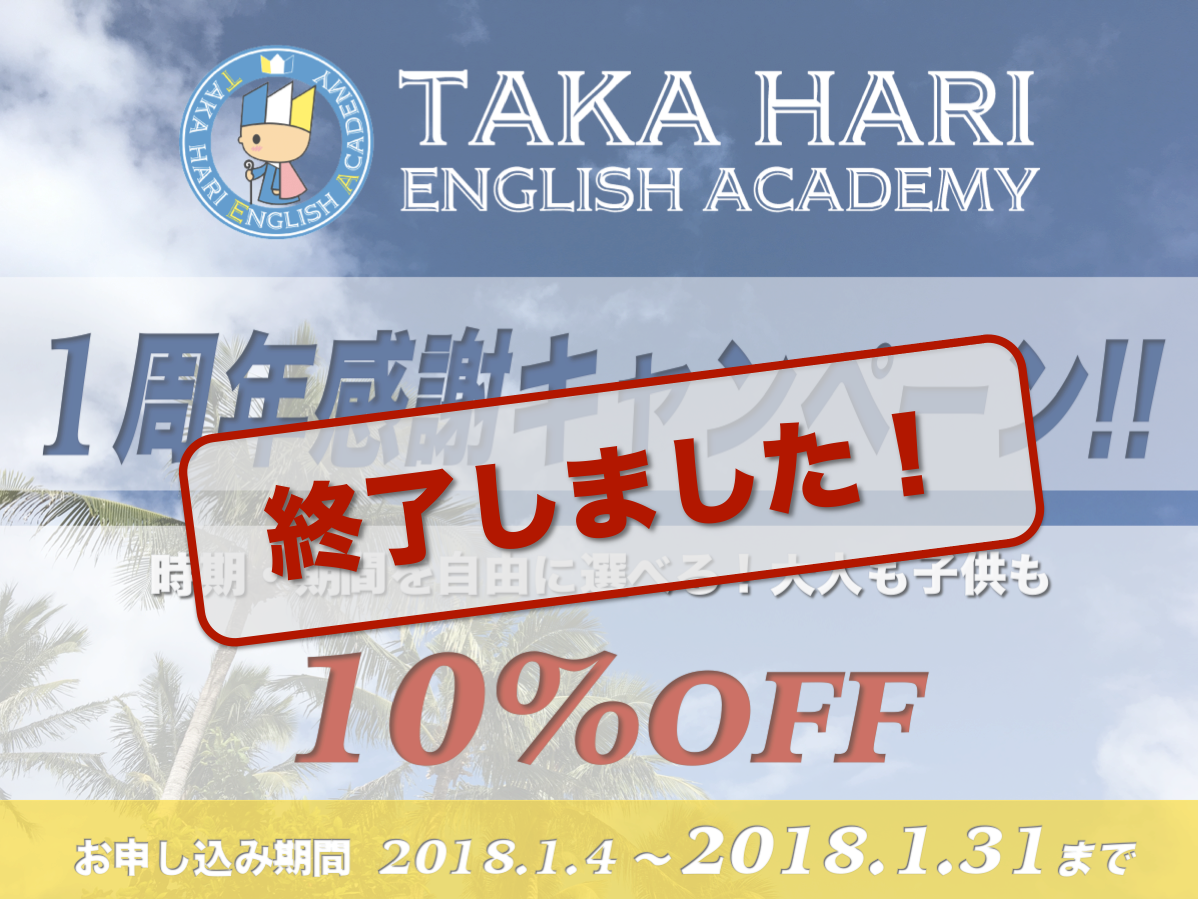 ---
This campaign ended with 2018/1/31.
Thank you very much for your many applications!
---
TAKA HARI ENGLISH ACADEMY celebrated its first anniversary in January 2018
.
We thank you for your continued patronage.
Let's say
"First Anniversary Appreciation Campaign !!"
If you sign up with a message from January 4-January 31
"I saw an article on the 1st Anniversary Appreciation Campaign"
Your study expenses will be 10% off !
Parent and child study
Parents and children together
Dawn and 10% off and, it is an unprecedented advantageous period.
For example …
■ If you are studying alone with one person
(single occupancy room)
Weekly 94,500 yen → 85,150 yen
2 weeks 159,000 yen → 143,100 yen
3 weeks 238,500 yen → 214,650 yen
4 weeks 258,000 yen → ¥ 232,200
■ In the case of studying abroad with two parents
(total for two persons room / for two persons)
139,000 yen per week → 125,100 yen
2 weeks 218,000 yen → 196,200 yen
3 weeks 327,000 yen → 294,300 yen
4 weeks 356,000 yen → ¥ 320,400
※ Period, you can choose freely.
※ Can not be combined with other discount campaigns.
※ Because the amount of money varies depending on the number of days, a detailed estimate is " for studying abroad Please contact us from "Consultation ".
※ For the expenses included in the above rates, and the expenses that will be required locally, " Please see the page of "Courses and Fees".
From now on,
When the flights for February and March are cheap
春 Spring Break
◎ Golden Week
◎ Summer Vacation
If you are considering studying abroad,
you have a chance to sign up for this month! !
Please contact us at the right time.
▼ Apply, Contact Us
Website | " For studying abroad Consultation page
Email|contact@takaharienglish.com
Phone | 03-4405-8848
(Receiving hours: both weekdays and holidays from 10:00 to 22:00 )