Study abroad with my brother (3 years old) and sister (1 year old) | It was really nice with kind and bright Takahari!
Categories

voice

Date

2018-01-03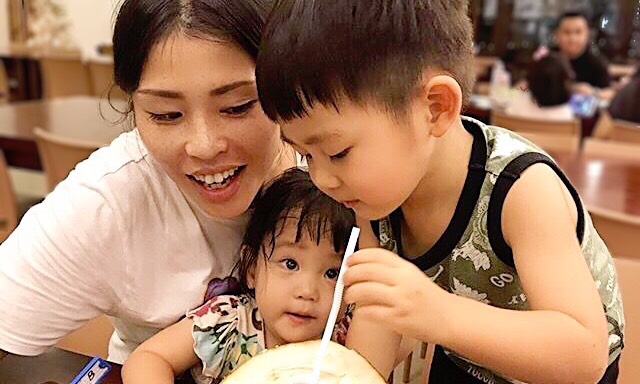 Name | S. Kayo, Susumu (3 years old), Rin (1 year old)
Residence | Kanagawa
Period | 4 weeks (1 month)
Course | Parent-child course
---
| Please introduce yourself briefly.
The mother of two children on parental leave. I am searching for what I can only do now for the purpose of returning to work from next April.
| What is the purpose of studying abroad?
I want my children to be able to speak English, but since I can not speak English at all, I decided to study abroad because I must speak at first.
I would like to use English as much as possible in conversations with children in everyday life.
| Filipino lecturer, how was your lesson?
Are there any signs of pronunciation? And I was worried, but I did not need to worry at all.
I explained the grammar in an easy-to-understand manner, and I explained the words I didn't know until I understood it in English.
I also taught English to children by song, and I naturally remembered words.
The kids were kind, funny and the best teachers.
| Have you felt any change in your English?
I understood the grammar, so I can not speak a smooth conversation yet, but now I can organize sentences in my mind and turn them into words. Even after returning to Japan, children also sing English songs together and learn "color" and "fruits" in English.
| What is your impression of studying abroad?
The Filipino people are kind and kind to children anyway.
Also, although the image of the Philippines was bad when it was called the Philippines, the image of the Philippines (Cebu) changed because it was a level where it was possible to walk with two children to the supermarket.
| How was your graduation?
The teachers and staff members sent me out, and I was impressed by the message.
It was really sad to say goodbye.
I expressed my gratitude in my graduation speech.
Without you I can not study english well. Thank you all teachers and staffs.
| TAKA HARI ENGLISH What is ACADEMY's best points?
Because rice is Japanese and Japanese rice, it is safe for children to eat, and the seasoning is delicious, so it is really recommended for studying in parent and child.
Since the teachers, staff members and everyone were really kind, bright and at home, I felt that the children lived without feeling lonely.
Because there are Japanese staff, it is good to be able to consult in various ways.
| The last thing to finish studying abroad
I was really good to study abroad.
I felt it was not enough in one month. Although I was not good at English, I felt it was necessary to have half a year because I was not able to speak smoothly.
I really enjoyed it and I think it was really good to be Takahari. I also want to see teachers and staff … I will definitely go!
I will come back to TAKA HARI again.
Thank you for the beautiful meeting.