Old rare (70 years old) first in life | Senior study abroad
Categories

voice

Date

2018-03-22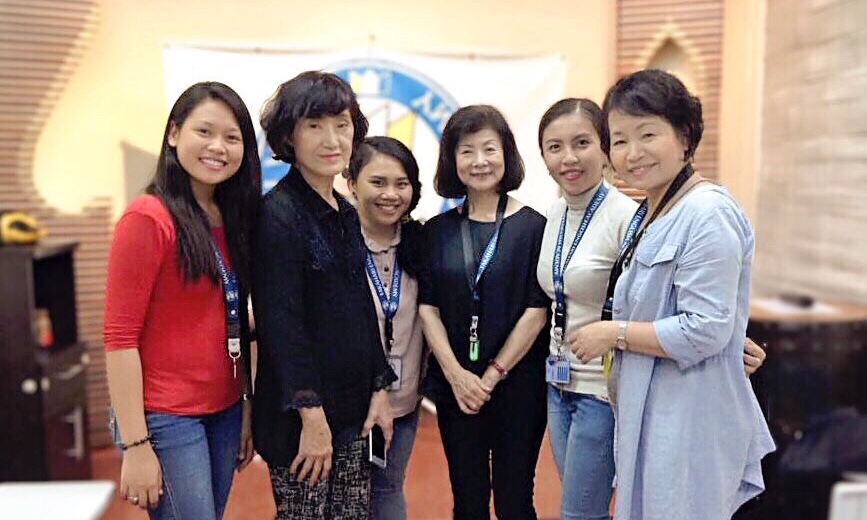 Name | Sachiko Takahashi
Residence | Shiga Prefecture
Period | 5 days
Course | one-to-one course
---
| Please introduce yourself briefly.
Last year, I reached the age of 70 years old, and I studied for the first time in my language. I was only good at English when I was a student, but I went to a junior college of home economics under my recommendation. When child-care went through, I found an article in the English conversation class on the PR paper of the city I lived at that time and participated. Communication with foreigners, ways of thinking, cultural differences, etc. are much more enjoyable than English in schools, and they tend to rest in various business events.
| What is the purpose of studying abroad?
I moved to Otsu City a dozen years ago and made an English Conversation Club, and now there are 15 beginner and intermediate classes. Several of the members went to England for a month of language study, but at the same time, I could not leave my house so much and just listened to me as a stranger.
Last February, my son suddenly quit his job and went to Cebu saying "Go to English school".
I only had the image of a resort in Cebu. After returning from study abroad for 3 months, I learned in his Facebook that I was communicating with Takahari's teachers in English. I will do it! It seems that you can feel free to go to Takahari's expenses, etc. When I talked to my friends, I said, "Let's go together!"
We exchanged emails and phone calls with the principal Taka, many times and kindly answered, and three people in Araseb (around 70) decided to study abroad as a one week experience trip.
| Filipino lecturer, how was your lesson?
50 minutes x 7 lessons every day from Monday to Friday was hard but it was fun too.
How long has it been such a hard time taking classes? No, it may be the first time.
There was a preconception that Filipino's English had a peculiar habit, but none of them, all teachers taught me friendly and kind.
Each time the lesson is over, three of us return to the room of the lodging and say, "I'm tired!" When I rehydrated and the chime rang, I said, "Let's work hard!" to the classroom. Such everyday was full of 5 days of full density.
| Have you felt any change in your English?
It was only five days, so I could not see much progress in my English, but at this age my concentration and knowledge absorption ability is diminishing.
But the fun and interest in communicating with foreigners has become even deeper!
| What is your impression of studying abroad?
The academy's food is delicious and the staff are friendly and helpful.
The meal in the courtyard had a feeling of resort that healed the tiredness of the lesson. We enjoyed dinner with the nearby Cebu restaurant, a Japanese restaurant, and a barbecue restaurant, such as "Where are you going today?"
| How was your graduation?
Graduation ceremony is also one of the fun memories.
On the previous day, one of the teachers knocks on our room, and "Please sing this song together at the graduation ceremony tomorrow" and please bring the score of "top of the world" of the Carpenters. The That night, three of us practiced and four of us sing on the day, and the young women teachers danced.
One, one was awarded a diploma, and one of my friends laughed, saying, "I'll get this in my box."
| TAKA HARI ENGLISH What is ACADEMY's best points?
At first I thought that 50 minutes of one-to-one lessons would be tough seven times a day. He said, "If I get tired, I can cancel it from the afternoon," but every time the teacher changed the room and the contents and the way of teaching were different, no teacher was bothered by the topic. Rather, I thought that cancellation would be a shame when there were only 5 days, and I started to fly away if the chime of the opening day rang. This chime is similar to the entrance chime of our house, and it reminds us of the days that it was fun if the chime rang.
| The last thing to finish studying abroad
When I returned to Japan after finishing a super short-term study abroad, my son showed me a facebook posted by one of Takahari's teachers, "Moms are on it". On her post
Age is just a number! These ladies are the living proof that learning doesn't require age! That learning only requires COURAGE and OPEN MINDEDNESS.
along with a photo of our graduation ceremony It was done.
Her comment acted as an enforcement to me!
I would like to go back again after finding an opportunity. Thank you to Takahari everyone!